Classes
Intro to Thai Healing
Thai healing, also known as Yoga massage, is an ancient healing system combining acupressure, Ayurvedic principles and assisted yoga postures.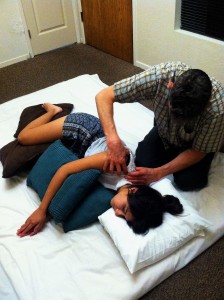 When: 1st Saturday of the month (e.g.: March 5th, April 2nd, May 7th etc)
Time: 10 a.m. ~12 p.m
Location: Capitola Health Center (4895 Capitola Rd.)
Cost: Sliding Scale $15~$30 per person
Materials to Bring With You: A pillow, blanket, and comfortable clothing
To Reserve a Spot: contact David at 831-345-3763 or dfour108@gmail.com
Bring a friend, family member, or just yourself and we'll pair you up!
Come learn how to share this therapeutic healing art with your loved ones and…
Enhance strength and flexibility

Relax sore and tense muscles

Improve range of motion

Detoxify the body

Boost the immune system
*Not for Credit